Electric Bike Fat Tire Nakto Cruise 300W 36V 10Ah Review

Status: In-Stock 
Have you ever wanted a fun, safe way to get fit? Do you want a bike that is comfortable to ride? Do you want an electric bike with a battery that will last for a long time? Then, you'll love the Fat Tire Nakto Cruise. There are a range of features that this bike offers, these include;
Fat tires, so you can use it in a range of situations, like riding on the beach.

Adjustable saddle design, so you will feel comfortable riding the bike.

An LCD display and a fashionable bike, so you'll want to be seen riding it.

LED headlight and brake motor, so it's safe to ride.

25-mile range, so you don't get stuck without a battery.

This bike can go up to 25 miles per hour!
Let's take a closer look at each of these features that the Nakto fat tire electric bike offers.
Versatile:
The fat tires mean that your weight will get spread out more evenly as you ride. This makes it perfect for riding in difficult conditions, like over sand, snow, or gravel. For this reason, you'll be able to ride your bike year-round and will never run out of interesting places to ride.
Comfort:
One of the most important aspects of any bike is how comfortable it feels when you ride it. Thankfully, the Nakto cruiser, allows you to adjust it to suit your needs. This ensures that you will want to use it more frequently.
Fashionable And Practical:
This bike has been designed to look sleek, ensuring that you look great while you use it. In addition, it comes equipped with plenty of high-tech features to make sure that it remains very practical. For example, it comes equipped with a 5-speed LCD display for you can measure your results. The gears make it easy for you to control your speed and get more traction to help you up hills.
Safety:
When riding, one of the most important considerations should be your safety. Thankfully, the Nakto cruiser has multiple features that will keep you safe. First, there are anti-skid tires, to prevent you from sliding off the road. Also, the brake motor has also been designed with user safety in mind. Finally, you can use this bike at night using the LED headlight.
Long Battery Life: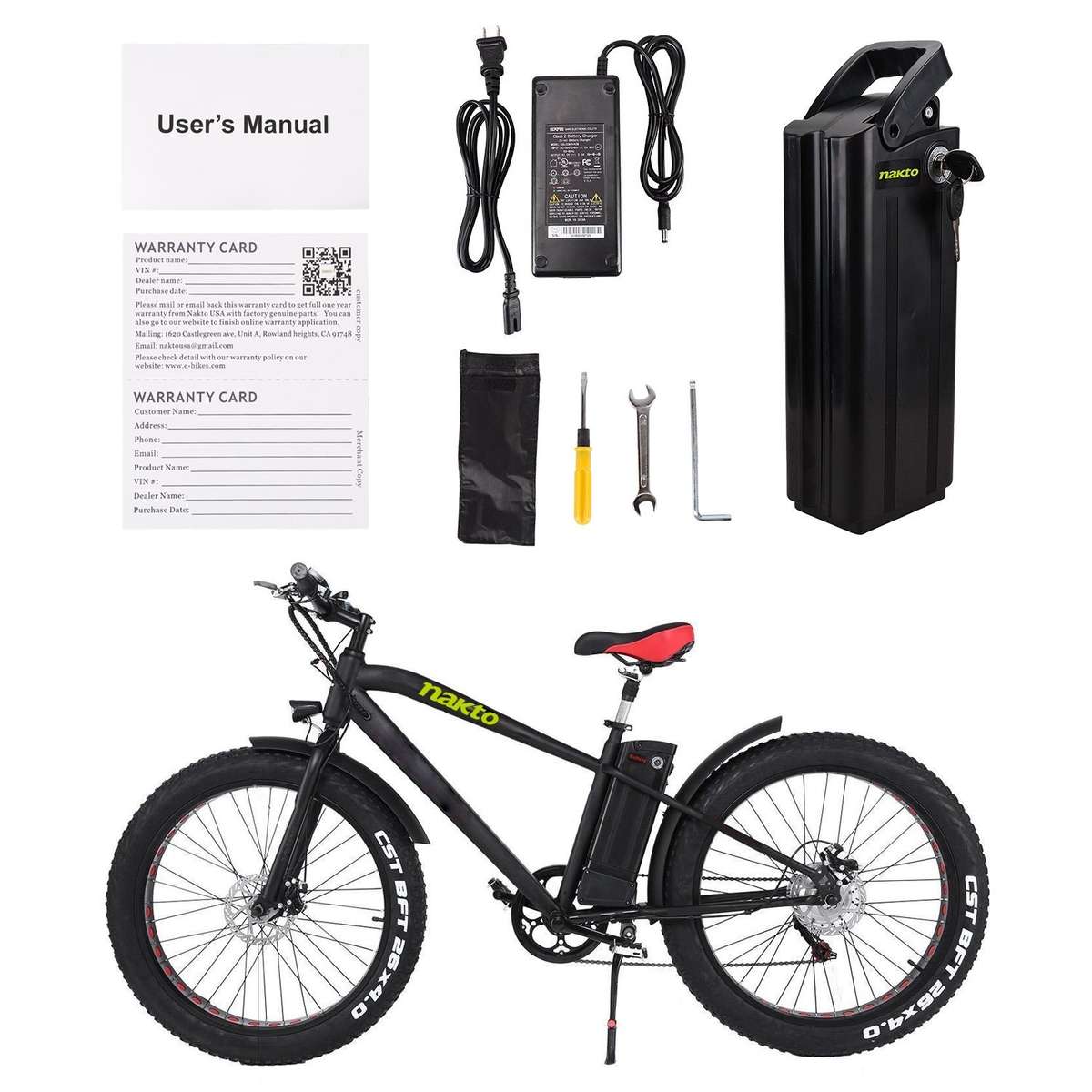 One of the biggest problems with most electric bikes is their short battery life. Having a short-range can limit the types of places that you can visit. However, this isn't the case with this Nakto Cruise Electric Bike. It has a range of 25 miles and only takes four to six hours to charge.

Motor: 300W brushless motor 
Battery: 36V10AH Lithium Battery
Charging: up to 4-6 hours

*

Range: up to 25 miles

*

Derailleur: Shimano 6-speed-gears

*

Weight capacity: up to 250Lbs under conditions

*

Net Weight: 50 lbs*
Tire: 26" x 4" Fat Tire

*Disclaimer: The customer purchased the bike agree with the disclaimer below:
The kickstand position may be change time to time but will not affect the standing of the bike
The Logo colour may be changing time to time from green to white
The maximum speed is tested under perfect condition road condition and does not perform at the max speed on any type of road condition
The net weight might be heavier due to the material
The weight capacity might be less due to the road condition
The battery capacity might be less due to the road condition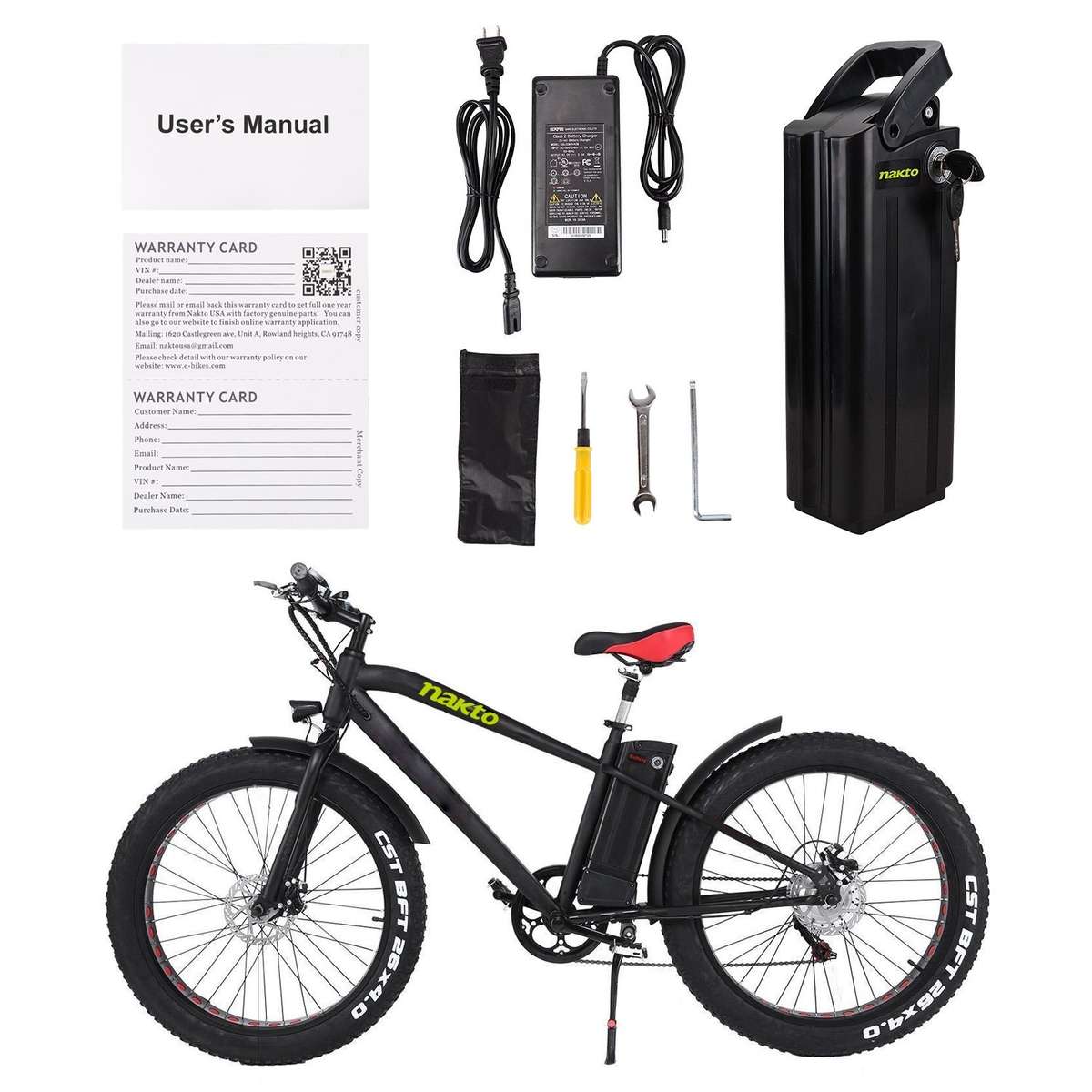 NAKTO

 

LIMITED 1 YEAR WARRANTY:
All Nakto's electric bikes

 

is

 

covered under the manufacturer's 1-year warranty for the original owner against all manufacturing defects.
This includes main bike components: motor, battery, controller, throttle and PAS system.
Parts are warranted to be free from manufacturer defects in materials and/or workmanship for a 1 year period from the date of original purchase.

NAKTO FAT TIRE E-BIKE CRUISER 26"
Simple Assembly Step By Step:
Free Offers Included With Purchase:
FREE Shipping (up to $497 Value)

FREE Pre Delivery Inspection ($29 value)

FREE Shipping Insurance ($100 value)

FREE Pre-Delivery Notice ($19 value)

FREE After-Sale Support ($99 value)
Total FREE Value over $900 - Hurry Up! Sales End Today!
Order a Fat Tire Electric Bike Nakto Cruise today from ElectricZip.com. Free shipping + No Sales Tax and many more freebies. Order today!