Nakto CRUISER Fat Tire Electric Bike
Have you ever wanted a fun, safe way to get fit? Do you want a comfortable electric bike with a battery that will last for a long time? Then, you'll love the Nakto Cruiser Fat Tire Electric Bike. It's the most influential fat tire electric bike due to its excellent design, good performance, and low price. Thus, hailed as one of the best performing fat tire e-bikes in the Nakto brand.
ALL NAKTO'S PRODUCTS & ACCESSORIES
FEATURES
Rear Hub 36V 300W Brush-less Motor
A High-Quality 36V 10Ah Lithium-Ion Battery
Adjustable Saddle Design
HD LCD Display on a Big Screen
LED Headlight and Brake Motor
Can go up to 22-28 MPH
The Nakto Cruise Fat Tire Electric Bike is designed to explore more ranges in their riding adventure. Equipped with a high-quality 36V lithium-ion battery with good safety performance and built-in overcharge protection, you can travel long distances without worrying about getting stuck. One of the most important aspects of any bike is how comfortable it feels when you ride it. Thankfully, the Nakto Cruiser allows you to adjust it to suit your needs. This ensures that you will want to use it more frequently.
The fat tires mean that your weight will get spread out more evenly as you ride. This makes it perfect for riding in difficult conditions, like over sand, snow, or gravel. For this reason, you'll be able to ride your bike year-round and will never run out of exciting places to ride.
The Nakto Cruise has been designed to look sleek, ensuring that you look great while using it. In addition, it's equipped with plenty of high-tech features to make sure that it remains convenient. A 5-speed LCD that clearly shows the Voltage Level Status, PAS Level Status, current speed, etc., and for you to measure your results on a big screen. The gears make it easy to control your speed and get more traction to help you up hills.
Safety should be the most essential thing to consider when riding. The Nakto cruiser has multiple features that guarantee safety throughout your adventure. There are anti-skid tires to prevent you from sliding off the road. The strong bright LED headlight that you can use at night. The brake motor that's proven efficient when maneuvered. And many more.


SPECIFICATIONS
MOTOR
Rear Hub 36V 300W
BATTERY
36V 10Ah Lithium-Ion
PACKING DIMENSION
1580 x 280 x 775 mm
TIRES
26" x 4"
FRAME
Steel
BRAKING SYSTEM
Front and Rear Disc Brake
DERAILLEUR
6 Speed SHIMANO
DISPLAYER
LED Displayer
LIGHTS
Front - LED light
Rear - Reflective light
SENSOR
Speed Sensor
WIRING
Waterproof Connectors and Wiring Harness
FUNCTIONS
Pedal Assist On-Demand Throttle
MODES
3 Modes
BATTERY LIFE
Up to 1000 Cycles
RECOMMENDED RIDER
5'3" - 6'3"
WEIGHT w/ BATTERY
68 lbs
LOAD CAPACITY
243 lbs
CHARGING TIME
4 - 6 Hours
RANGE
22 - 28 miles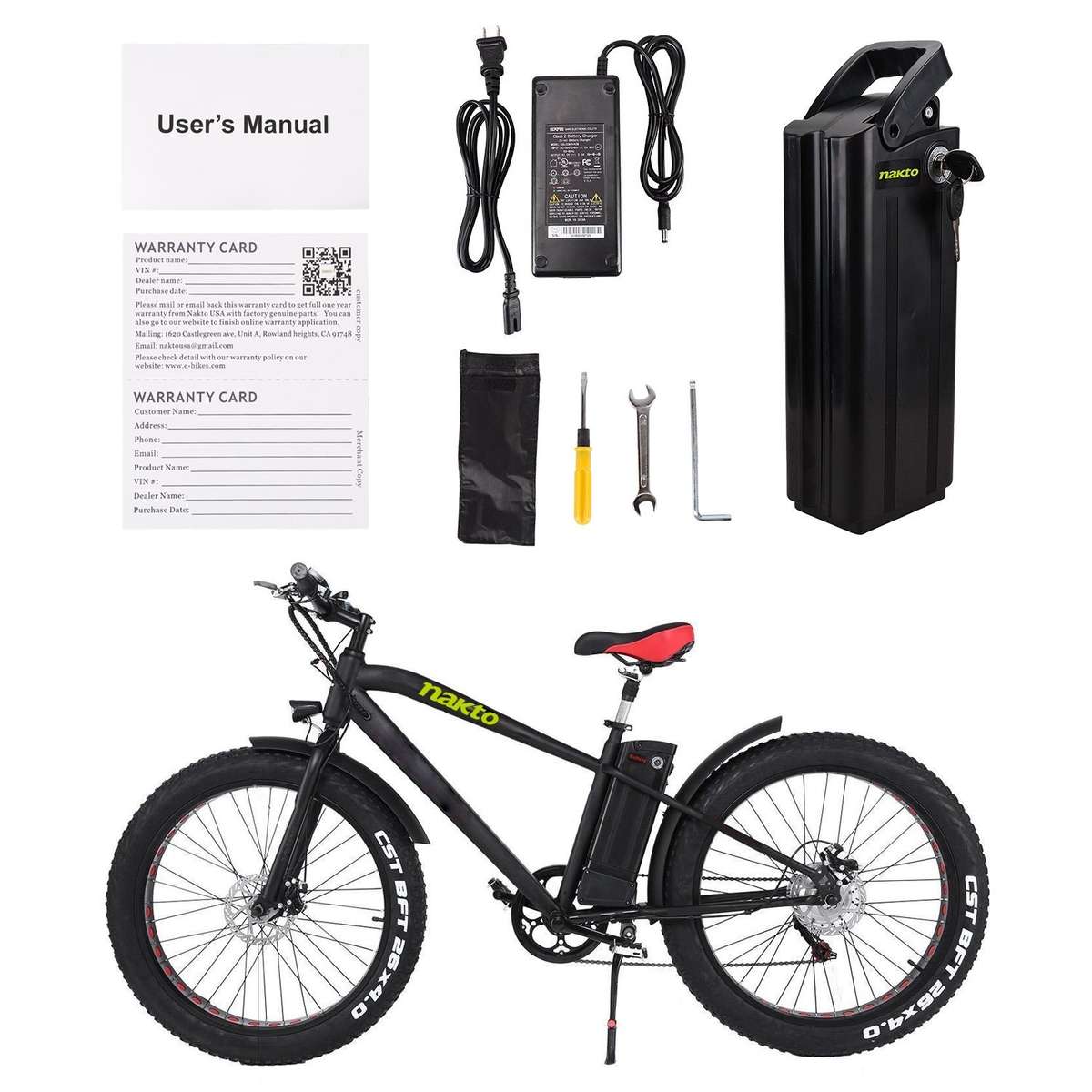 Disclaimer:
- The kickstand position may change from time to time but will not affect the standing of the bike.
- The Logo color may change from time to time from green to white.
- The maximum speed is tested under perfect condition road conditions and does not perform at the max speed on any type of road condition.
- The net weight might be heavier due to the material.
- The weight capacity might be less due to the road condition.
- The battery capacity might be less due to the road condition.

NAKTO LIMITED 1 YEAR WARRANTY:
All Nakto's electric bikes

 

are

 

covered under the manufacturer's 1-year warranty for the original owner against all manufacturing defects.
This includes main bike components: motor, battery, controller, throttle, and PAS system.
Parts are warranted to be free from manufacturer defects in materials and/or craft for a 1 year period from the original purchase date.
The bike comes 80% assembled. A few minor adjustments are to be made to ensure rider safety. Please refer to our assembly videos on the Customer service tab for further instructions.
NAKTO E-BIKES Set Speed Limit According To United States Federal Regulations, Maximum Speed In Power Mode Is Programmable And Can Be Adapted To The Local Regulations Of Any Country.
All Range Estimates Are Contingent Upon Rider And Towing Weight, Wind Speed And Terrain.

Nakto Cruise Fat Tire Electric Bike Simple Assembly Step By Step: