Nakto Men City Cruiser Electric Bike, Camel
$769.00
Regular price
$999.00
We will be donating 1% of ALL Sales in May to Heart to Heart International to support the people in Ukraine. Learn More Here.
Nakto Camel Men City Cruiser Electric Bike
Sold-out & will be available soon!
Do you need a capable electric bike for commuting to work or school? Are you looking to have something practical for high-traffic environments where roads are always blocked with cars?? The Nakto Camel Men City Cruiser Electric Bike is the perfect e-bike that lets you enjoy the city scenery. You will love riding it on congested streets and city paths. It is perfect for sightseeing, roaming parks, and visiting places with plenty of shops. If you are a working parent, a student, an office worker, or a simple city dweller, get one now to experience fun and convenience with Nakto Camel Men. CAB26M003
ALL NAKTO'S PRODUCTS & ACCESSORIES
FEATURES
250W or 350W Rear-Mounted Geared-Hub Motor
A High-Performing 36V 10.4Ah Lithium-Ion Battery
High-Quality 26" x 1.7" Tire
LED Displayer
Adjustable Saddle Design
High-Strength Carbon Steel & Superior Car Paint
Expansion Real Brakes
Brake Motor Safety Cut-off
Locking Kickstand
Range up to 20 Miles
LIMITED OFFER
Get a free HD1080P Action Camera when you order this bike today. Plus, 5% discount at checkout by using our coupon code. Order now!
Roam the city with the Nakto Camel Men City Cruiser Electric Bike, the perfect bike for adults and anyone who wants a reliable daily ride. It features a classic and stylish beach cruiser frame plus modern components suited for the challenging urban environment.
This e-bike is powered by a 36-volt, 250-watt brushless DC hub motor sitting inside the rear wheel for direct torque on the road. It can travel through rough roads and go over potholes with ease. With a 36-volt lithium-ion battery pack with 10 amp/hr capacity, it has more than enough power to last throughout the day and definitely has enough charge to go back home. Ride it to work or school without worrying about the range.
It also features a thumb throttle and a pedal-assist function. The throttle gives power in your hands to speed on the road effortlessly. The pedal assist is hooked to a speed sensor that provides accurate torque for more effortless pedaling. The bike also comes with a six-speed Shimano derailleur to control and ride it like an ordinary bike. The Nakto Camel Men comes with a V-brake on the front and expansion drum brakes on the rear.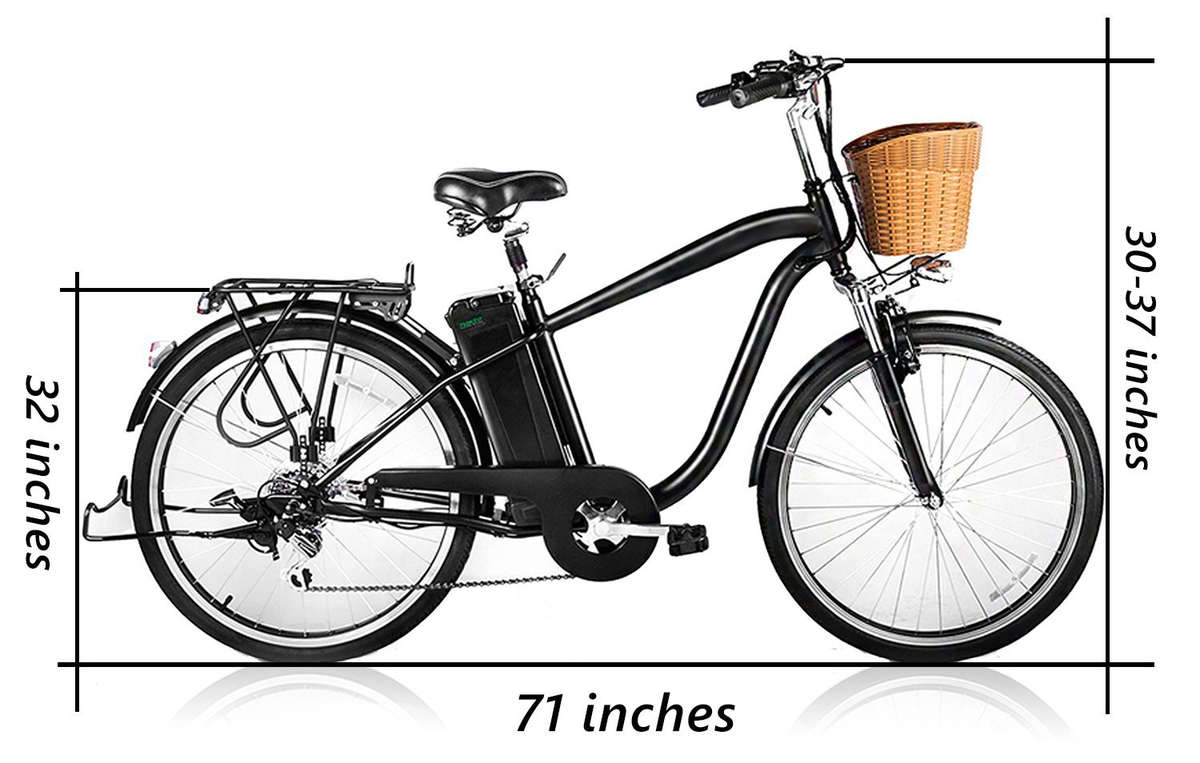 SPECIFICATIONS

TECHNICAL DETAILS
| | |
| --- | --- |
| MOTOR | 250W/350W AOMA BRUSHLESS REAR HUB |
| BATTERY | 36V 10Ah Lithium-Ion |
| CHARGE TIME | 4-6 Hours |
| DRIVE MODE | Pedal Assist On-Demand Throttle |
| TOP SPEED | 20 mph |
| RANGE | 20 Miles |
| DISPLAY | Fixed LED |
| DISPLAY READOUTS | Battery Power (6 LEDs) |
BICYCLE COMPONENTS
| | |
| --- | --- |
| FRAME | Steel |
| BRAKE | Shimano, Front V Brake, Rear Expansion Brake |
| GEARING | 6 Speed SHIMANO Derailleur |
| FORK | Trama 82B Sprung Fork, 60mm Travel |
| SHIFTER | Thumb Right SHIMANO |
| CRANKS | Steel, 152mm Length |
| PEDALS | Yonghua Plastic Platform |
| HEADSET | Threadless, 1-1/8" Straight |
| STEM | Steel, 40mm Length |
| RIMS | Aluminum Alloy |
| GRIPS | Flat Black, Friction Mounted Stiff Rubber |
| HANDLEBAR | Aluminum Alloy |
| SPOKES | Stainless Steel, Silver with Nipples |
| TUBE | Schrader Valve |
| SADDLE | 8" Wide Plush with Rear Springs |
| SEAT POST | Steel, Quick Release Collar, and Folding Latch |
| TIRE | 26" x 1.75" Kenda |
| TOTAL WEIGHT W/ BATTERY | 68 lbs |
| WEIGHT CAPACITY | 250 lbs |
| RECOMMENDED RIDER | 5'4" - 6'2 |
| ACCESSORIES | 12" Wide Plastic Basket, Electronic Horn, Integrated LED Headlight, Rear Reflector Light, Rear Mount Kickstand (Axle Mount with Frame Support), Bell, Rear Rack, Fenders (Front & Rear) |



NAKTO LIMITED 1 YEAR WARRANTY:

All Nakto's electric bikes are covered under the manufacturer's 1-year warranty for the original owner against all manufacturing defects.
This includes main bike components: motor, battery, controller, throttle, and PAS system.
Parts are warranted to be free from manufacturer defects in materials and/or craft for a 1 year period from the original purchase date.
The bike comes 80% assembled. A few minor adjustments are to be made to ensure rider safety. Please refer to our assembly videos on the Customer service tab for further instructions.
NAKTO E-BIKES Set Speed Limit According To United States Federal Regulations, Maximum Speed In Power Mode Is Programmable And Can Be Adapted To The Local Regulations Of Any Country.
All Range Estimates Are Contingent Upon Rider And Towing Weight, Wind Speed And Terrain.

Checkout today & get:




✔ Free HD1080P Action Camera ($49 value)




✔ Low Low Prices!




✔ Free Shipping in the contiguous US (up to $300 Value)




Limited offer. Order Now!
Great Bike
Ordered this bike for my husband after I got one last month. Absolutely love it!! Looks good, rides great! Love the extra it gives you riding in the wind or up hills. Easy to assemble. Only thing is seat is very uncomfortable, and will need to replace. I highly recommend
Enjoying so far
The bikes were received in excellent condition. Went online for assemble instructions and assembled (not to hard). Bike rides and goes easily. Very much enjoying it so far.
Gracias estoy muy satisfecho con el producto funciona de maravilla lo recomiendo
Great Bike!
I purchased two electric bikes. One men's and one women's model. My wife and I assembled the bikes within a few hours. A few screws were missing but found later, stuck in the heavy styrofoam packing material. The bikes are wonderful! I laughed as my wife sped up our steep hill, past some teenage boys who couldn't make it up the hill. They were shocked to see her not even pedaling! Me? I'm a 270 pound man. I had to pedal assist in order to get up the hill, but it was easily achieved. I have had two total knee replacements, so these electric bikes really help me remain active. One small note, the bikes are shipped with low air pressure in the tires. They will need some air before riding them.
New Cruiser for men, purchased from electric.zip.com
I purchased the Electric Bike Nakto Camel 250W City Cruiser For Men - CAB26M003 1 1/2 weeks ago, assembly was easy and the bike is very well built. If you are looking for a battery run bike I recommend you get it from Electric Zip, GREAT BIKE, I love it. John
Hi John, Thank you very much for your review and your kind words. Your smile and happiness is the biggest motivation for us everyday! On behalf of Electric Zip family, we wish you and your family a Happy New Year!