Nakto Electric Mountain Bike, Mountain Ranger, 350W
$949.00
Regular price
$1,399.00
We will be donating 1% of ALL Sales in May to Heart to Heart International to support the people in Ukraine. Learn More Here.
Nakto Mountain Ranger Electric Mountain Bike
Are you looking for a fast, reliable mountain bike that you can use for unpaved roads and off-road paths? Have a sleek ride for the trail with the Nakto Mountain Ranger Electric Mountain Bike. This e-bike is an ideal ride for off-road cycling and school or work. This is among the best electric mountain bikes for all with its price and function. RanXB260012
ALL NAKTO'S PRODUCTS & ACCESSORIES
FEATURES
Rear Hub 36V 350W Brushless Motor
A High-Quality 36V 10Ah Lithium-Ion Battery
High-Performing 26" x 1.75" Tire
HD LCD Displayer
Can go up to 22-28 MPH
Powerful Brakes and Motor Safety Cutoff
LIMITED OFFER
Get a free HD1080P Action Camera when you order this bike today. Plus, 5% discount at checkout by using our coupon code. Order now!

The Nakto Mountain Ranger Electric Mountain Bike comes with gorgeous 26-inch spoked rims, high-performance tires, and a sizable 10 amp/hour battery for traveling long distances. Its fashionable design and system make it easy to conquer the mountain you never thought of.
350W BRUSHLESS MOTOR
Explore the countryside and nature trails with the Nakto Ranger, featuring a stylish hardtail mountain bike frame and a high-speed 350-watt hub motor that guarantees an exciting ride. Its lightweight aluminum frame and lithium-ion batteries weigh lighter than many mountain bikes. The bike is equipped with large 26-inch rims and a set of certified mountain biking tires so that you can handle twisting, technical trails, and bumpy paths.
36V 10AH BATTERY
The electric commuter bike has a range of 22-28 miles, so it has more than enough power to last throughout the day. You can bring the Nakto Ranger to explore your favorite state parks or bring you to work or school and still have enough charge to return home. This model has a 36-volt lithium-ion battery pack with a 10 amp/hr capacity. Ride it to work or school without worrying about the range.
SMART LCD DISPLAYER
The big screen clearly shows you Current Speed, Max Speed, Average Speed, Odometer, Tripometer, Range, Calories, Trip Timer, Clock, Mode, Watts or Amps, Battery in Percentage or Bar, Assist Level (0-5). Making your ride easier. And the horn and the bright LED headlamp are equipped for night riding.
This is a sporty mountain bike. The Nakto Ranger features a front fork suspension, front & rear disc brakes, and CST Jack Rabbit tires, certified for mountain biking. These tubeless tires are fast-rolling and have small ramped knobs for a perfect mix of grip and speed. It also features a twist throttle and a five-level pedal-assist function. The throttle gives power in your hands to speed on the road effortlessly. The pedal assist is hooked to a speed sensor that provides accurate torque for more effortless pedaling. The bike also has a six-speed Shimano derailleur to control and ride it like an ordinary bike.
Also, a stylish bike featuring a classic mountain bike frame with fenders and 26-inch spoked aluminum alloy rims. The frame is 100% aluminum alloy with a premium paint finish. The bike comes with a large LCD and disc brakes to stand out. This bike is designed for daily mobility and for traveling off-road paths. It is perfect for exploring nature trails, as a daily ride, or for doing errands, making the Nakto Ranger Electric Mountain Bike the perfect mountain bike for everyday adventures.
HIGH-QUALITY MATERIAL: The electric bikes adopt a superior 100% percent aluminum alloy frame, the front fork is made of high-steel packed with premium comfort shock absorption, and also double layer aluminum alloy 26-inch wheel
BRAKE & GEAR SHIFT SYSTEM: This electric bike with front and rear disc brakes and Shimano 6 speed gear, you can choose any speed according to your needs. The mechanical double disc bark fully protects your safety.
HIGH-SPEED MOTOR:  The bike equipped with a smart lithium battery charger can make you ride up to 25 miles. 300w high-speed brushless gear motors Feeling the breeze, enjoy the scenery of nature.

SPECIFICATIONS
TECHNICAL DETAILS
| | |
| --- | --- |
| MOTOR | 350W BRUSHLESS REAR-HUB |
| BATTERY | 36V 10Ah Lithium-Ion |
| CHARGE TIME | 4 - 6 Hours |
| DRIVE MODE | Pedal Assist On-Demand Throttle |
| TOP SPEED | 20 mph |
| RANGE | 22-28 Miles |
| DISPLAY | M5 LCD |
| READOUTS | Current Speed, Max Speed, Average Speed, Odometer, Tripometer, Range, Calories, Trip Timer, Clock, Mode, Watts or Amps, Battery in Percentage or Bar, Assist Level (0-5) |
BICYCLE COMPONENTS
FRAME
Steel
BRAKE

Front & Rear Mechanical Disc

GEARING
6 Speed SHIMANO Derailleur
WIRING

Waterproof Connectors and Wiring Harness

MODES

3 Modes

SADDLE
Comfortable Cushion
SENSOR

Speed Sensor

TIRE
26" x 1.75" 

CST BFT

TOTAL WEIGHT W/ BATTERY

68 lbs

WEIGHT CAPACITY
250 lbs
RECOMMENDED RIDER

5'4" - 6'2"

ACCESSORIES

Rear Reflective Lights, Headlight, Fenders (Front & Rear), Kickstand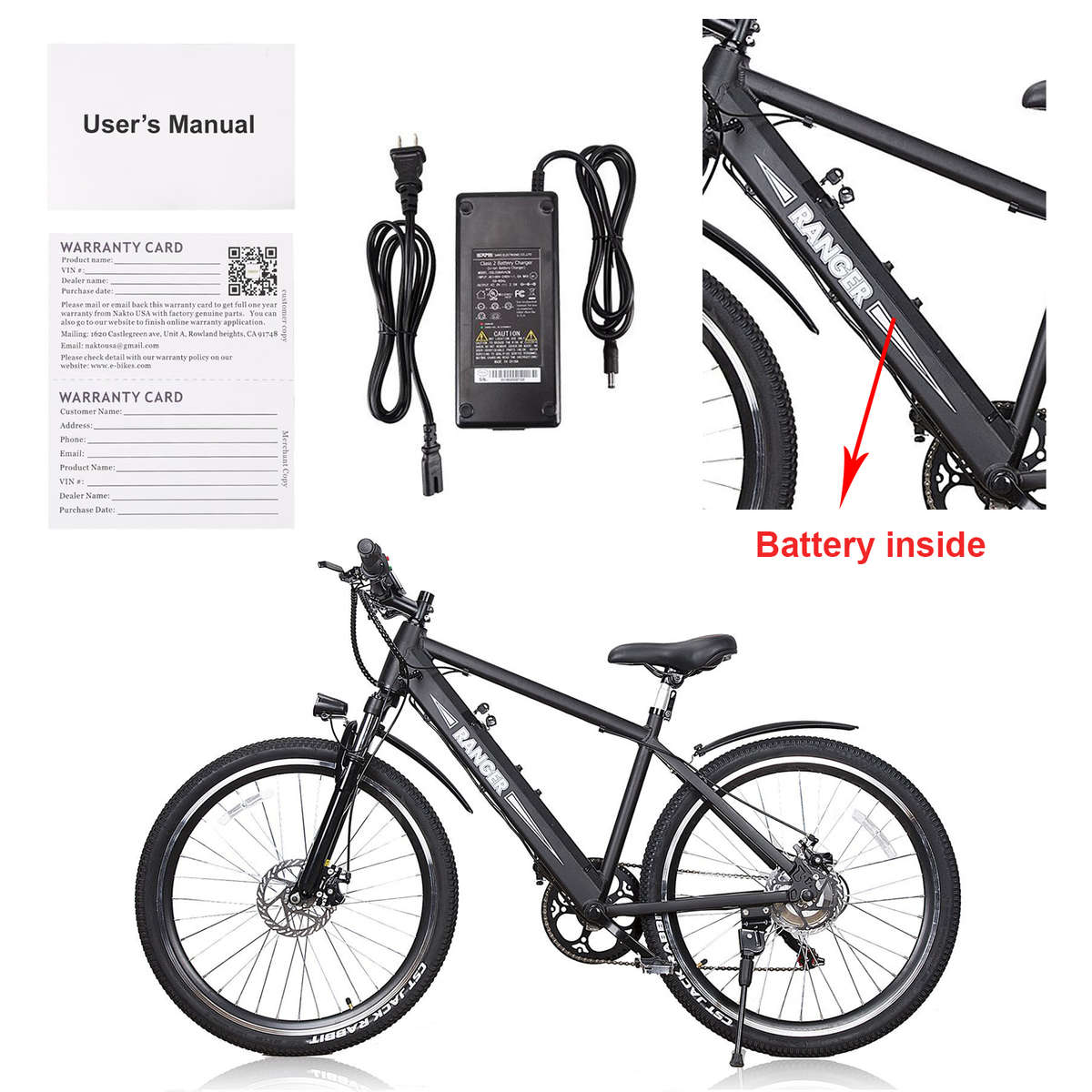 NAKTO LIMITED 1 YEAR WARRANTY:
All Nakto's electric bikes

 

are

 

covered under the manufacturer's 1-year warranty for the original owner against all manufacturing defects.
This includes main bike components: motor, battery, controller, throttle, and PAS system.
Parts are warranted to be free from manufacturer defects in materials and/or workmanship for a 1 year period from the original purchase date.
The bike comes 80% assembled. A few minor adjustments are to be made to ensure rider safety.
NAKTO E-BIKES Set Speed Limit According To United States Federal Regulations, Maximum Speed In Power Mode Is Programmable And Can Be Adapted To The Local Regulations Of Any Country.
All Range Estimates Are Contingent Upon Rider And Towing Weight, Wind Speed And Terrain.

Checkout today & get:




✔ Free HD1080P Action Camera ($49 value)




✔ Low Low Prices!




✔ Free Shipping in the contiguous US (up to $300 Value)




Limited offer. Order Now!
Electric mountain bike
I bought the bike for my husband and he loves it. It was a little complicated to put together because the instructions are very vague and not many videos on YouTube, but we managed to put it together and its very comfortable and fun to ride.
I highly recommend the bike.
Thank you.
New owner
Received bike in good shape.needed very little assembly. Took about 1.5 hrs to put together.great product built well.still have not receiver extras camera , lock , cell phone dock.its the slow time of the year.
HI Jim. Thank you for your review sir. The accessories are on their way and I can see that its arriving some times next week :) Thank you for your patience Mr Jim. I hope you have a wonderful holiday!
review of nakto camel 250W city cruiser women bicycle - CLW26F001
the bike works real well. I decided to change my order from the electric mountain ranger to the city cruiser and customer service was able to revise with no problem. also i broke the kickstand and was sent a replacement with no problem. Outstanding customer service!